About Nightjar
Observatory
Our Provence adventure started with one-week visits during a couple of years whereby we set-up our telescope at a gîte in Revest du Bion. Eventually a friend drew our attention to Sirene. This public observatory in Lagarde d'Apt offers the possibility to place a permanent setup, in our case a ScopeDome 3M which we installed in September 2018.
Sirene observatory occupies a former nuclear missile launch site at an altitude of 1100m with an open horizon and a nice view on Mount Ventoux. For more info about this astronomy gem visit www.obs-sirene.com.
Setup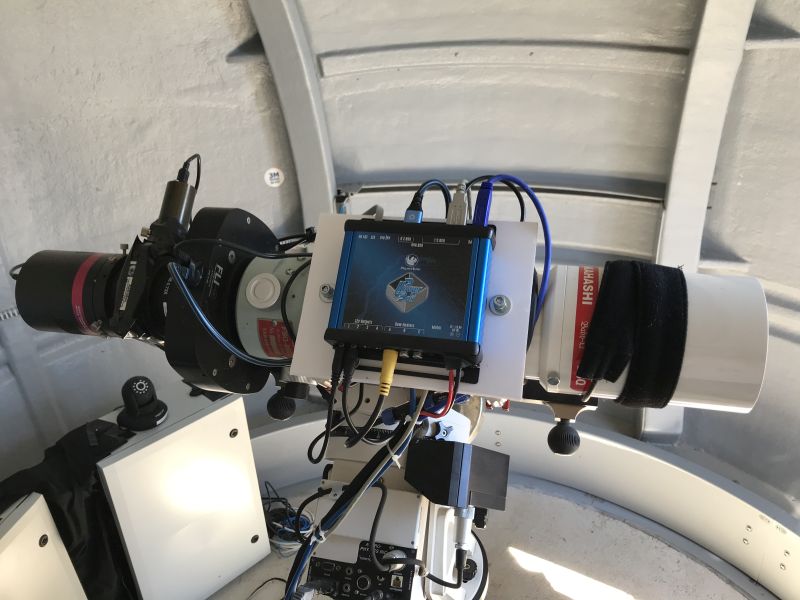 Currently we have a Takahashi FSQ 85ED installed with a QHY168C Camera. Off-axis guiding is done with a MMOAG, focusing with an Atlas focusser. A Pegasus Astro Powerbox allows us to neatly manage connectivity and keep the amount of cables under control. The AP900 mount is a long time companion. Sequence Generator of Main Sequence Sofware is the imaging software we have been using since 2017.
Marc / Tim
This is us back in March 2010 at Revest du Bion. Marc (right) is primarily looking after the hardware side of things and taking care of imaging. Tim (left) is mostly into the software side of things and has a keen interest in the math behind image processing.